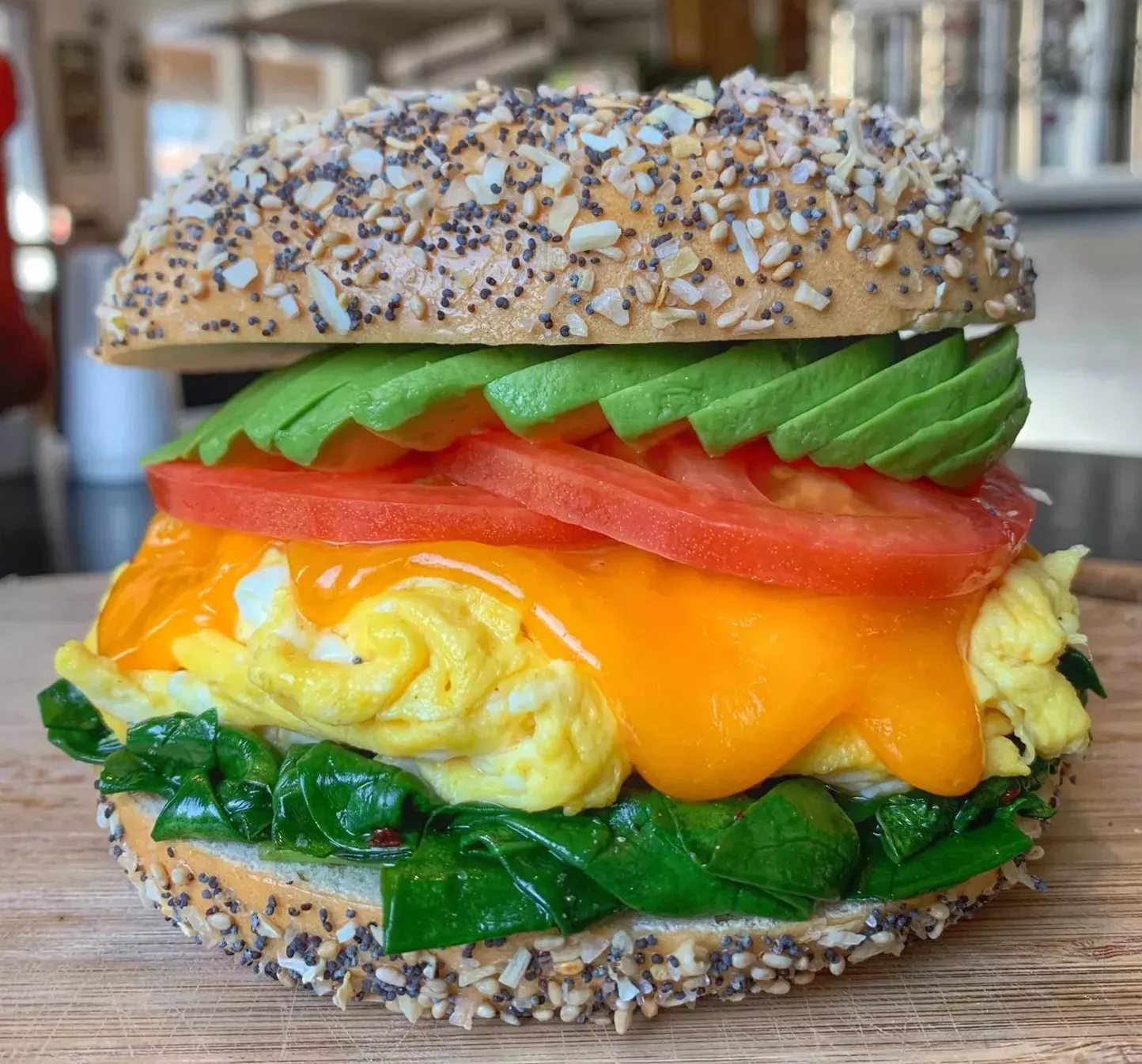 8 Hudson Valley Bagel Shops for Your Next Breakfast Stop | General food and beverages | Hudson Valley
While the Hudson Valley may not have New York's reputation as America's bagel capital, upstate bagel shops still deliver this boiled-and-baked breakfast staple to the oven. If you're in the mood for a bagel, the Hudson Valley has options ranging from the classic dish with schmear to stuffed with eggplant. And these places go above and beyond too, turning bagels into the base for egg sandwiches, breakfast treats, and even bagel burgers. They also offer other breakfast items like omelettes, pancakes, and French toast galore. And many of these bakeries are filled with baked goods like black and white cookies, pies and scones. Stop by these spots one morning and see why they are Hudson Valley favorites.
Hopewell Hot Bagel | Hopewell Junction
In operation since 1986 and now available to order online, Hopewell Hot Bagels offers a wide range of breakfast classics. In addition to nearly 20 varieties of daily fresh bagels, ranging from whole wheat poppy seed to jalapeno to weekend special Asiago cheese, there are also blueberry or chocolate chip pancakes, or French toast. with challah bread. Savory options include omelettes with lots of toppings, from peppers to pastrami. If you're not a breakfast fanatic, Hopewell Hot Bagel still has you covered. Try a stuffed sandwich with your choice of egg, tuna or chicken salad. Opt for the classic side of fries or a potato knish. For something sweet, there are cinnamon rolls, black and white cookies, and a variety of fruit scones. Or grab a dozen donuts to take home.
Moonrise Bagels | Woodstock

Moonrise Bagel founders Jeremy Rhodes and Ali Chetkof have backgrounds in accounting and public relations, respectively. But in this new spot in Woodstock, they're perfecting the art of the stuffed bagel. This idea was born after Rhodes combined breakfast and dinner by putting pizza in a bagel. After much experimentation, Rhodes and Chetkof opened Moonrise in December 2021 in Chetkof's hometown of Woodstock. Customers can choose from indulgent toppings like egg and cheese, eggplant parmesan, chicken buffalo, Philly cheesesteak and the one that started it all: the pizza bagel, filled with tomato sauce and fresh mozzarella cheese. If you're looking for a more classic breakfast, there are also unstuffed varieties like sesame and all you can order to go. Moonrise also offers coffee from Heavyfeather Roasting Co.
Broad Street Bagels | Kinderhook
Broad Street Bagels makes bagels from a 150-year-old recipe passed down from owner Meghan Calcagno. Order your authentic Brooklyn-style boiled bagel with bacon, eggs, and cheese, or try the cream cheese the Calcagno family makes themselves. For lunch, there are bagel burgers, served with grilled potatoes. Broad Street Bagel has plenty of other goodies to offer, from chocolate covered biscotti to stuffed peppers. Broad Street Bagel uses coffee from Capital City Roasters in its espresso program, which offers everything from cappuccinos to mochas and Americanos. Original hardwood floors, brick walls, and white marble countertops create a vintage feel to match the authentic old-world bagels. On the other side of the river? Broad Street bagels are also available in all their glory at Goodie's in Catskill, where they're delivered fresh daily and turned into elaborate sandwich creations.
The Bagel Shop | Fishkill and Beacon
The Bagel Shoppe has been a Fishkill favorite since 1998. In 2020, a second location opened in Beacon. Stop by to try fun bagel flavors like carrot, walnut and raisin or cinnamon stick. Accompany your bagel with a homemade spread with flavors of olive and chili or nuts and raisins. Each breakfast sandwich and omelet is made with farm-fresh eggs. Try the house specialty "bagel all the way" sandwich, with smoked salmon, cream cheese, onion and tomato. There are also plenty of sweets to choose from, such as cannolis, éclairs and Napoleons. The pies are packed with classic flavors like pecan, apple, coconut cream and cherry. Do you feel wild? Try your coffee with interesting flavors like Banana, Peppermint or Amaretto.
Rhinebeck bagels | Rhinebeck
With pop art on its walls and chrome counters, Rhinebeck Bagels offers a funky, retro aesthetic and laid-back vibe. Try a sweet cream cheese like honey and almonds, or go savory with the flavor of horseradish with cheddar and bacon. Or pile your bagel on top with toppings like avocado, jalapeno, and bacon. There are also omelette sandwiches, a bagel sliced ​​and filled with eggs, meat and vegetables. Most sandwiches can be made with a bagel instead of regular bread, so you can opt for a BLT bagel or a tuna melt. For chilly days, cozy up with a cup of soup, available Monday through Friday. Choose from beer fries, tater tots or classic hash browns to get your potato fix.
Sunrise Bagels | kingston
Sunrise Bagels, Kingston's favorite, offers big, chewy bagels in all the classic flavors. There's a wide array of spreads to choose from, in flavors like sun-dried tomato pesto, cinnamon apple, or olive. Try an omelette over a bagel in varieties like tomato and feta or ham and cheese. Deli sandwiches can be ordered on a bagel, such as the mozzarella sandwich with olive oil, balsamic, garlic spread and fresh basil. The fridge is stocked with favorite breakfast drinks like orange juice and chocolate milk. Sunrise only accepts cash, so stop at the ATM next to the door before heading to the counter.
Bodacious Bagels | stone ridge
Located on the ground floor of a sunny, yellow Dutch Colonial on the main street of Stone Ridge, Bodacious Bagels serves up authentic Middle Eastern fare alongside bagels. Bagels come in flavors like blueberry, cinnamon apple, and caraway salt stick. Or opt for a flagel, available in sesame, poppy and all varieties. Falafel is also offered, with the sandwich or the falafel platter. Hummus, tahini, tabbouleh and falafel are also available to order by the pound. For a pastry, take rugelach with flavors of apricot, raspberry or grape nut. There are also plenty of cookies to choose from, such as sugar ginger cookies. Have freshly squeezed orange juice with your breakfast or warm up with a chai latte, coffee or hot chocolate.
Lox of Bagels | Saugerties
After moving from New Jersey to Saugerties, John and Barb Farcher noticed that there were no bagel outlets nearby. They opened Lox of Bagels in 1990 and Saugerties residents have loved it ever since. Open 364 days a year (excluding Christmas), Lox of Bagels is a Hudson Valley staple. Lox offers breakfast essentials throughout the day. Try a bagel with Nova Scotia smoked salmon, cream cheese, tomatoes and onions. Lunch choices include burgers and wraps, served with fries or onion rings. Businesses throughout the Hudson Valley sell fresh-baked bagels from Lox, so you can stop by Adams Fairacre Farms or Hannaford for your weekend fix if you're not in Saugerties.